BETROCK'S ESSENTIAL GUIDE TO PALMS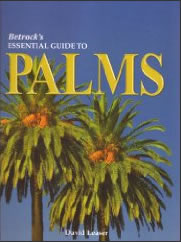 An essential guide to palm care that includes an At-A-Glance Palm Finder with characteristics of 279 palm species. Filled with everything you need to grow beautiful palms. Whether you're a new palm lover or an experienced gardener, this is the ultimate guide for selecting, growing, & maintaining palms. More than 300 color photographs throughout. Tips on everything from propogating palms to preventing pests and diseases. Information for growing palms in cold, dry, and coastal climates. Seasonal checklist for maintaining palms. Directory of major palm gardens throughout the world. Includes charts for finding the correct palms for specific areas.
Click here to purchase from Amazon.com: Betrock's Essential Guide to Palms.