GROWING PALM TREES IN HAWAII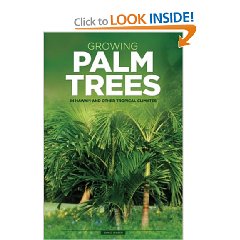 Whether you are a beginner or an experienced gardener, this handy reference is the perfect instruction manual for growing palm trees in Hawai'i and other tropical locations. Featuring photos of rare and exotic palms, this book will inspire you to create your own tropical paradise. Also, this colorful field guide will help you to quickly identify a wide variety of palms, and you'll discover the best places to see palms throughout the islands. This book identifies 81 different palm species and contains over 110 photographs of rare and exotic palms. It also includes instructions and tips for selecting the right palm for your garden, planting and transplanting, growing palms from seed, maintenance and much more. This book is the perfect resource for anyone interested in tropical palms.
Click here to purchase from Amazon.com: Growing Palm Trees: In Hawaii And Other Tropical Climates.