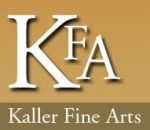 3732 Chesapeake St., NW
Washington, DC 20016
(301) 908-1365
candace@kallerfinearts.com
www.kallerfinearts.com
Kaller Fine Arts is a private gallery and art consulting service dedicated to providing affordable, high quality artwork to individuals and businesses. Candace Kaller brings to KFA over ten years of experience as a museum educator at the National Gallery of Art and the National Museum for Women in the Arts, as well as prior ownership of the Galerie de Tours in San Francisco.
Kaller Fine Arts' philosophy is that strong art enhances all environments, providing inspiration and visual interest to our surroundings. Many of Kaller Fine Arts' artists focus on the fine line between abstraction and elements from the real world, emphasizing unique uses of materials and varied surface texture.
Kaller Fine Arts provides consulting services to interior designers, architects, professional office managers and private clients seeking visually exciting artwork that accentuates their space.